The wall of shame, a concrete barrier between the informal neighborhoods of San Juan de Miraflores, and the affluent residents of Santiago de Surco, is a frequently cited example of segregation along class lines in Latin American cities. It stands at three meters tall and is topped with rings of barbed wire, stretching over ten kilometers of mountainous terrain to separate the two sharply distinct communities. Santiago de Surco, to the west, boasts vast green spaces and large two-story homes with personal swimming pools. Community security guards patrol the streets and close the neighborhood's gates at night; their outposts are spread out throughout the area. On the other side of the wall is the sprawling assortment of informal homes in San Juan de Miraflores (not to be confused with the district of Miraflores closer to the center of Lima, a very affluent part of the city). These homes, built into the "Cerro"—the mountainous regions surrounding central Lima, as has been discussed in earlier posts and represented in my artwork—are often constructed of spare wood and concrete, and topped with slabs of sheet metal.
Residences in San Juan de Miraflores lack the basic services that are readily supplied to their affluent neighbors on the other side of the wall. Most homes do not have electricity, and 9 out of 10 residences do not have access to the public water supply, or a connection to any drainage system (TECHO 2018). Those that live in S.J. de Miraflores must pay for water to be independently shipped into their neighborhoods via water trucks, often shoveling out ten times as much money as the wealthier residents of Santiago de Surco, who have public access to water (OXFAM 2014). Approximately 92% of those that live in Nueva Rinconda (a subdistrict in Santiago de Surco) "compra agua a los camiones cisterna", and pay three soles for 100 liters of water, which is subsequently poured into large blue canisters for residents' use (OXFAM 2014). Residents must sometimes wait for hours for the water trucks to arrive, as their "erratic (routes) up the steep dirt tracks of the 'slum'" are often unpredictable (Mervin 2015). Residents then pour and carry this water into their homes, but must be careful to clean and sanitize all buckets and pitchers in order to avoid water borne diseases that are also carried in by the trucks.
Also lacking for many residents, are property deeds. Most residents have purchased plots of land informally from the technical "landowner", but hold no property ownership, and cannot legally point to any documents that support their claim to remaining in the Cerro. From 1950 to 1980, the population of Peru's Lima district has grown to over 9 million, most of whom are living in the "conos" to the north and south of the city's center. At the same time, Lima's "hierarchical order was maintained, in which the rich occupied the center of the city, surrounded by the middle class, with the lower class inhabiting the peripheries" (Boano and Desmaison 2016). Since the 1980s, internal migration to Lima has soared as many Peruvians from the country's Sierra and Selva regions fled their rural homes in search of security and opportunity in the city. The severe economic downturn during the 80s, alongside terrorism and internal conflicts throughout the country, pushed millions to concentrate in the districts surrounding central Lima in what is known as "the invasion". Simultaneously, upper- and middle-class residents also moved outside of the city, which they felt were becoming too crowded. Thus, the lands surrounding central Lima were split between affluent residents, and incoming migrants.
"This meant that social groups, which traditionally occupied distanced geographical spaces, now shared the same territory: both the upper and lower social classes mingled in the city's peripheries. To quell a growing fear of their poorer neighbours, affluent new residents built gated communities with heavy s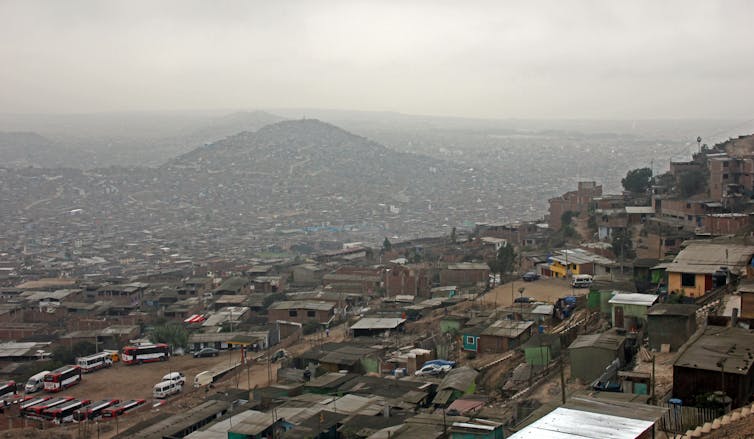 ecurity installations which prevent people living outside those areas to pass through them. It's not just a matter of security – living within a gated community also confers social status. The walls deter and immobilise: they are an expression of power and control over the lives of others" (Boano and Desmaison 2016).
These conditions have generated the current situation at the wall of shame. In the next post, I will discuss what these walls, their power, and their relationship with space entail, and how social class can be understood in terms of permanence and transience in a spatial setting.
TECHO presents their first report on the human settlements of the district of San Juan, Peru
https://peru.oxfam.org/participa-nuestras-campanas-iguales/sara-el-muro-y-el-agua
https://www.bbc.com/news/business-34451418
https://www.arte.tv/en/videos/078636-000-A/peru-wall-of-shame/
http://theconversation.com/limas-wall-of-shame-and-the-gated-communities-that-build-poverty-into-peru-53356